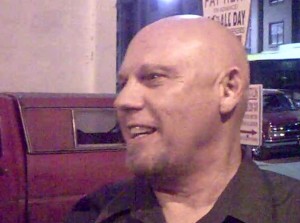 I met Bill Johnston On Sunday February 28th at the KNON blues Show at The Pearl in downtown Dallas. He was opening for Johnnie Red and The Roosters. It was a benefit to support KNON a nonprofit radio station in Dallas and the best place to hear blues on a regular basis. I'm working on a post about the benefit and I have an Interview with Johnnie Red on the way as well. If you want to hear what Bill Johnston sounds like, there is a link to his Myspace and his band "The Tu-Tones" at the bottom of the article.
Bill Played with Aarron Burton That Sunday Evening. They played some Old style southern blues. They amplified but didn't distort much if at all. Aarron played some side, did some finger picking and played an acoustic and a Resonator. (I'm thinking about picking up a Resonator). I'm starting to call it restoration blues because it really digs into the roots of Delta blues. It was a great show.
Bill took a few minutes out to talk to me about playing Blues Harmonica. Enjoy the video.